Search the GreenDavies Family History Web Site
Enter one or more keywords to search for.
Note that '*' and '?' wildcards are supported.
Search results for: workhouse in category "Direct Ancestor"


2 results found.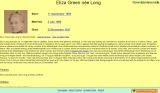 Page dedicated to Eliza Green formerly Eliza Long from Upottery who worked in various workhouses
... she was working as a servant for a surgeon at his home in Taunton, Devon. Later, she worked at the Christchurch Union Workhouse in Hampshire, for 2 years up to 8 July 1890. It appears that after leaving she applied for a job at Ludlow Union ...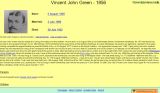 Page dedicated to Vincent John Green who became a Royal Fusiler
... India. After leaving the army he returned to London and on the night of the 1891 Census he was residing at the Whitechapel Union Workhouse, where he worked as a cook. It was at this workhouse where he met his wife Eliza Long, who also worked there ...
Search powered by Zoom Search Engine