Search the GreenDavies Family History Web Site
Enter one or more keywords to search for.
Note that '*' and '?' wildcards are supported.
Search results for: army in category "Tree"


2 results found.

Information about the Green Ancestors from Hartpury to London via Sherborne
... on 28 June 1772 in Hartpury, Gloucestershire. On 11 March 1793, William joined the 11th Regiment of Light Dragoons in the British Army. He spent the next 21 years with the regiment, some of which was spent fighting Napoleon's army in Holland, Portugal and Spain ...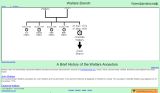 Information about the Walters Ancestors from Hartpury, Gloucestershire
... William Green on 22 February 1799 in the neighbouring village of Castleton. William was a soldier with the 11th Light Dragoons in the British Army. It is believed that Charlotte would have travelled with him and the regiment as they moved about the country. It is also believed ...
Search powered by Zoom Search Engine