Search the GreenDavies Family History Web Site
Enter one or more keywords to search for.
Note that '*' and '?' wildcards are supported.
Search results for: army in category "Direct Ancestor"


2 results found.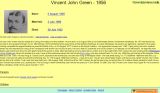 Page dedicated to Vincent John Green who became a Royal Fusiler
... Palmestone Buildings, St Lukes, Middlesex; he became an apprentice Jeweller for five years. Having completed his apprenticeship he joined the British Army, on 29 August 1877, to serve in the Royal Fusiliers- his regimental number was '1369'. Upon joining he had a ...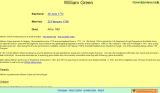 Page dedicated to William Green from Hartpury who joined the 11th light dragoons
... Gloucestershire circa 1770 and was baptised there in 1772. On 11th March 1793 he joined the 11th Regiment of Light Dragoons in the British Army. He spent the next 21 years with the regiment, some of which was spent fighting Napolean's armies: on the continent in 1794 ...
Search powered by Zoom Search Engine