Search the GreenDavies Family History Web Site
Enter one or more keywords to search for.
Note that '*' and '?' wildcards are supported.
Search results for: Porthdinllaen in category "Photographs"


1 result found.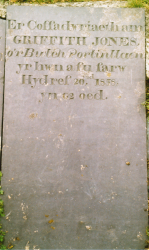 ... Er Coffadwriaeth am In Remembrance of GRIFFITH JONES, GRIFFITH JONES, o'r Bwlch Portinllaen of Bwlch Porthdinllaen yr hwn a fu farw who died Hydref 20,ed 1858, October 20th 1858, Yn 62 oed. Aged 62. ...
Search powered by Zoom Search Engine