Search the GreenDavies Family History Web Site
Enter one or more keywords to search for.
Note that '*' and '?' wildcards are supported.
Search results for: Plumley in category "Tree"


2 results found.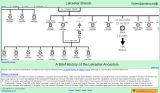 Information about the Leicester Ancestors from Plumley
... The earliest known Leicester ancestors are William Leicester and his wife Mary. Little is know about William and Mary except that they lived in Plumley, Cheshire and had 10 children (6 boys and 4 girls), who were all baptised in the Allostock Presbyterian Church. No ...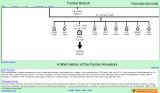 Information about the Forster Ancestors from Plumley
... 1824 in Pickmere, Cheshire. She married Charles Leicester from Knutsford on 2 March 1843 in Warrington. In 1851 they were living in Plumley and Charles was working as an agricultural labourer. By 1871 the family had moved to nearby Tabley. They were living in New Road ...
Search powered by Zoom Search Engine