Search the GreenDavies Family History Web Site
Enter one or more keywords to search for.
Note that '*' and '?' wildcards are supported.
Search results for: Peacock Lodge in all categories


11 results found containing all search terms.

Refine your search by category:

2 pages of results.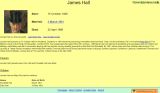 Page dedicated to James Hall who worked at Tabley House
... of the arches within the grounds. This photograph was taken outside Peacock Lodge, Tabley House. It is believed that the picture was taken ... the early 1900s. James Hall is 2nd from the left. Sitting down beside him is his wife Mary Hall née Ellis. Also in ...
Result Pages:
<< Previous
1
2
Search powered by Zoom Search Engine